Sri Lanka's official external reserves fell to US$ 2.36 billion by the end of January 2022 from US$ 3.14 billion by the end of December 2021, as the government settled foreign currency loans and funded essential imports, while taking receipt of a US$ 400 million currency swap and a US$ 500 million debt deferment from India.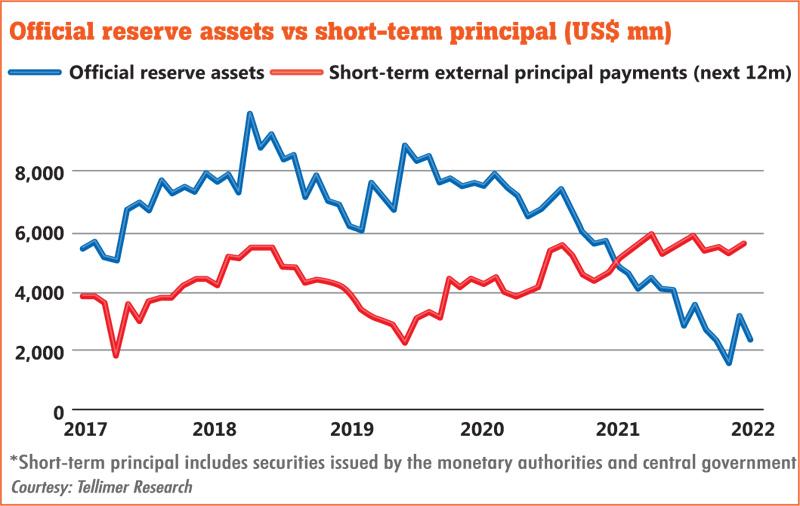 The January foreign reserves position merely provides 1.4 months of import cover.
Sri Lanka has so far resisted assistance of International Monetary Fund (IMF) to bolster its reserves position and restructure its debt. Instated the government has placed its faith on a home-grown fix based on expedited bilateral and multilateral funding lines to overcome the economic difficulties.
Sri Lanka up to now has received US$ 900 million worth of financial assistance from India and is expecting further US$ 1 billion in March to facilitate essential imports such as food and medicines from that country.
The government said it is discussing further credit lines from Pakistan, Japan and Australia.
In the three months from February to April, Sri Lanka has another US$ 1.83 billion foreign currency obligations to settle, while a billion dollar sovereign bond falls due on July 25.
Excluding the July bond, Sri Lanka has another US$ 2.9billion worth foreign currency obligation in the eight months to December 2022, bringing the total up to US$ 6.9 billion for the entire year, including the interest.
Out of the total debt due, the Central Bank said there is considerable amount which would be rolled over and hence wouldn't result in fund outflows. The Central Bank led by Governor Ajith Nivard Cabraal, who is an accountant by profession, deals with the current foreign debt problem from the standpoint of cash flows and liquidity as opposed to absolute reserves in relation to the foreign currency debt due in the next 12 months.
Independent research firm First Capital Research (FCR) estimates Sri Lanka could raise US$ 6.4 billion worth foreign currency loans from bilateral and multilateral sources in 2022, which could provide some cushion but wouldn't end external sector pressures plaguing the country's economy.
FCR also estimates the inflows from tourism sector to recover to US$ 2.2 billion and remittance flows to reinstate this year. According to analysts, a steady remittance inflow will only takes place once Central Bank allows complete float of the currency. At present, a large section of remittances are being sent through unofficial channels due to the higher conversion rates offered in the north of Rs.240 to a dollar as opposed to Rs.210 offered by the formal banking channels.
Meanwhile, despite an increasingly grim external outlook, Sri Lanka's euro bonds have rallied in the past week on news that the government has sought technical support from the IMF, according to Tellimer Research. (Daily Mirror)