'No Phobia' on Taking Chinese Money
Sri Lanka is agnostic about what countries it accepts foreign investment from, including China, Prime Minister Ranil Wickremesinghe said.
"There is no phobia," Wickremesinghe, 67, said in an interview on Sunday in Singapore. "Basically, any agreement with China will be to accommodate everyone in investments, any agreements with India will accommodate everyone. And any agreements with Singapore or Japan will be that way. We have no problem with all our friends."
China, alongside countries such as Japan, India and Singapore, is seeking investment in Sri Lanka as that country's economy emerges from a decades-long civil war, and given its geopolitical significance as an Indian Ocean gateway. Sri Lanka sits 64 kilometers (40 miles) from India's coastline along a busy shipping route in which tankers carry oil from the Middle East to Asia.
Chinese-funded projects include a $1.4 billion plan to build a city roughly the size of Monaco on reclaimed land at Colombo port, Sri Lanka's biggest foreign-funded investment on record.
Wickremesinghe's coalition initially pledged to break the $82 billion economy's reliance on China after coming to power last year, but has since worked to rebuild ties as a ballooning budget deficit and depleted reserves force it to seek external help. The port project, which stalled briefly when Wickremesinghe took office, is back on track. The International Monetary Fund in June approved a $1.5 billion loan to help Sri Lanka lower borrowing costs.
Issues with the port city development in Colombo have been "ironed out," he said, with a task force preparing legislation on the project. Also, Chinese companies will be cooperating in public-private partnerships on harbor and airport developments in the southern city of Hambantota, with a liquid-natural-gas plant and refinery also set to be provided by Chinese investors.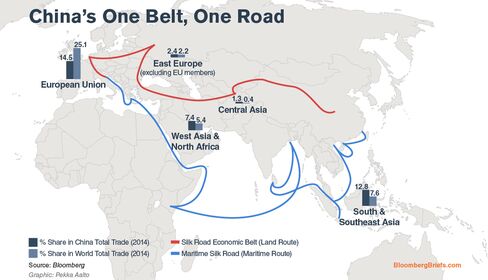 "We will take whatever investment comes in," said Wickremesinghe, who has been prime minister twice before and a lawmaker since 1977. "It is going to be mostly from East Asia," he said. "We need the investment, we need the growth, we need the economic transformation."
Sri Lankan-Chinese trade more than tripled since 2010 to about $5 billion last year, according to data compiled by Bloomberg. Trade with India doubled to $6 billion, with most of that increase coming under Wickremesinghe's watch. Sri Lanka and India in September also pledged to bolster security in South Asia and their maritime region.
Wickremesinghe said the country had hosted warships from many nations, but had a close engagement with India on security matters. Those security ties have raised the risk of tensions in the region with China on a military level, as India watches warily the expansion of Xi's navy.
China showed its growing naval prowess when it deployed a nuclear-powered submarine to patrol the Indian Ocean for the first time in 2014, while a diesel-powered one docked twice in Sri Lanka. The visits fueled doubts that China's strategy of building ports in the Indian Ocean was purely economic.
Refueling Visits
Still, Wickremesinghe said the country would potentially accept refueling visits by China's navy. "Whether it is Chinese, American or anyone, as long as they follow the proper procedures and we keep our special engagement with India, there is no problem," he said.
On the recent arbitration ruling by a tribunal in The Hague that dismissed China's claims to exclusive access to a large part of the disputed South China Sea, he said Sri Lanka was confident that engagement between China and the Southeast Asian nations involved should "to a large extent be able to sort out the problem."
He called on the Association of Southeast Asian Nations and China to implement a code of conduct — which has been in discussion for years with little progress — for the South China Sea, a key waterway through which about $5 trillion in trade moves a year.
Emerging Powers
"We are looking at Asean at being the major bloc that represents all those countries concerned and China," he said.
"But remember this is the emergence of Asian power and it means China, Japan, India, and there will be some issues of their relationship with each other and with some of the other Western powers, but we don't think anything is going to lead to war," Wickremesinghe said.
The rise of Asian nations didn't mean the U.S. — which has dominated security in the western Pacific since World War II — no longer had a role, but "the U.S. has to define what that role is," he said. "It didn't happen under the Obama administration, so a lot will depend on what happens at the next presidential election."
The goal, the prime minister said, is to make Sri Lanka "the hub" of the Indian Ocean for a revived Maritime Silk Road trading route to Europe. Chinese President Xi Jinping has touted the concept as part of his "One Belt, One Road" trade-and-infrastructure initiative, as he seeks to project China as a revitalized global power with a strong navy.
(Bloomberg)